Chocolate and CTR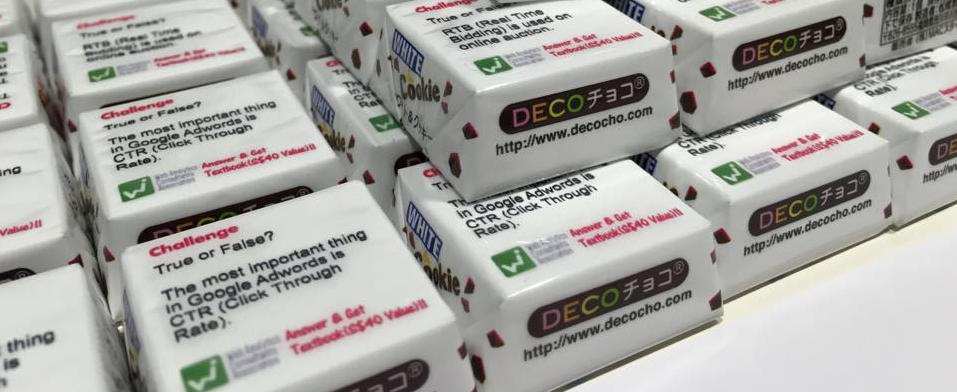 An interesting lesson from my friend Takashi san of WACA SG (Web Analytics Consultants Association SG), they had a booth at the recent Tech in Asia event and used chocolates as a promotional tool for brand awareness. The chocolates were a good ice breaker to start a conversation; many were attracted to the invitation of "Eat Chocolate and Get Web Analytics Text Book". The usual chocolate names like "High 5 with Adrian Roche" and "Will you be Takashi's girl" are truly creative teasers that help break the monotony of business conversation.

3 Things I Learn From WACA's Chocolate

Collecting Data
Organizing Data
Analyzing Data
Collecting Data
With a plethora of data available, collecting the right kind of data is foundational to any analytic work. Insufficient of useful data or having too much unrelated data will hamper us. Knowing your objectives can help us to identify what data is to be collected.
Using WACA chocolate example, if the objective is brand awareness, the following data will be useful

Possible Data
How many visitors to the booth
How many chocolates given away
How many exchange name card for chocolate

Organizing Data
Organizing data is a simple ordinary but import task which can be overlooked unintentionally. Having good organized data is like a warehouse with thousands of items carefully itemized, arranged and stored away, when you need them they can be retrieve quickly – so take time to formulate
I generally use Excel spread sheet which is an excellent tool, when deciding on your columns and rows structure you should take into consideration how this would affect the presentation of your data later, especially with the use of pivot tables and the filtering function. Using cell and font color coding is very often my first step in creating a visual order for more advance organizing.
Analyzing Data
Good analysis should provide direction and clarity to the problem or situation you attempt to solve. Many time it is easy to present the facts, but not putting them into context of the situation make such data not very useful.
Back to WACA' s chocolate example

Presenting Data
Total chocolate given away = 600
Cost of each chocolate =$0.60
Books given away = 105
Lead acquisition cost per book = $3.40

(The $3.40 lead acquisition does not reflect the true cost, as other cost such as booth rental, setup charges have not been added.)
Compare chocolate with other advertising platforms like Adwords, a CPC (Cost Per Click) of $0.60 is quite affordable, since most competitive keywords in Google Adwords are usually more than $1 now a days, I would say the chocolate certainly worth a try.
With a conversion of 17.5% it isn't something I would shout about, factors like the place and event could affect conversion, but with an affordable CPC of just $0.60 I would not mind using the chocolate for my next workshop …… Enjoy the Chocolate and Happy Tracking