How Could Our SEO Service Helps Your Business?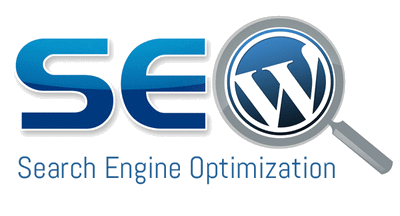 What is a good SEO service?
Simple: Good visibility on the internet that drives high quality traffic which converts well.
Search Engine Optimization (SEO) is defined as the process of optimizing a website's presence and visibility on search engines, like Google, Yahoo and Bing. It is also a process that all websites need, especially in Singapore's digital age.
To understand why SEO is an important aspect of digital marketing, we have to first understand how a search is executed. When a user makes a search, they enter a keyword, or phrase, into the search query bar. The results, which are displayed in the ranking display section, are pages that the search engine has deemed relevant to the search query.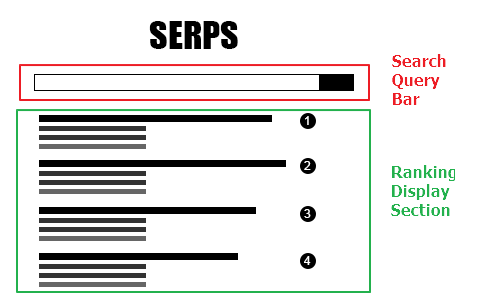 While the ranking of a page is determined by the search engine, it is not set in stone. Webmasters are able to adjust their ranking by optimizing their page, making it easier for your targeted audience to find you.
According to recent studies, it has been concluded that merely being on the SERP is not enough; a page has to also achieve high rankings. Philip Petrescu revealed in 2014 the benefits of being ranked higher on the SERP, citing that pages found on the SERP's first three pages received an average of 76.92%. On top of that, pages which occupied the first spot on the SERP received a third of the clicks. These findings points us in one direction – the undeniable benefits of SEO.
While there are many search engines currently being used by users worldwide, Google is by far the most used search engine. According to Globalstats, Google has acquired 97.35% of Singapore's local search engine traffic, beating out contemporaries like Bing, Yahoo, and Yandex.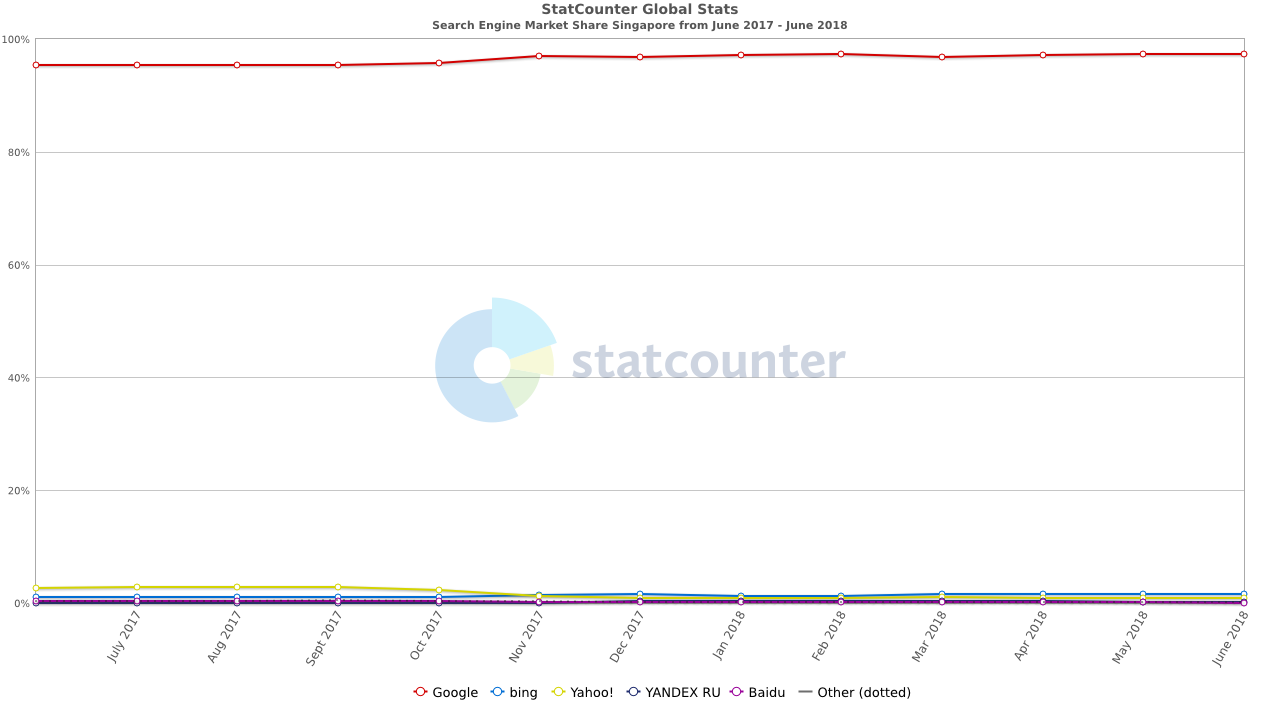 As the SERP changes to accommodate improvements to user experience (UX) so is the organic ranking real estate. These changes consists of the inclusion of paid advertisements, Google's main revenue drive, and knowledge graphs that improves with machine learning and artificial intelligence. The addition of such features in the SERP limits the number of URLs on the SERP top pages, making it more challenging for pages to rank.
Optimizing a page for search engines is therefore extremely crucial as it makes the page search engine friendly by improving its relevance and reliability. This quality of search engine friendliness improves a page's ranking, thus improving its visibility and potentially its traffic.
How Our SEO Service Rank Your Website
When ranking your page against your competitors, search engines, like Google, will look into three areas – the page's relevance to the query, the page's reliability, and the user's response to your page. Together, they form the three R's of SEO.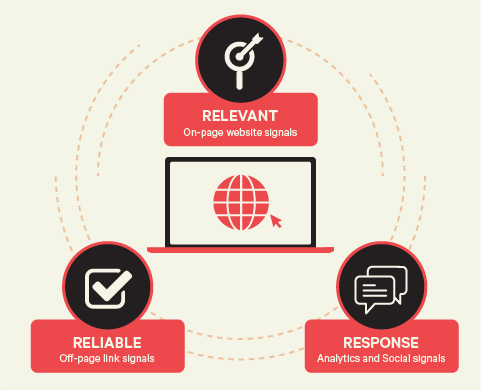 Relevancy of Content – When a page is evaluated for relevance, Google searches for clues that indicate that your page has answered the search query that has been entered by the user. This is largely determined based on the content produced by the site.
Generally, quality content is developed for the benefit of the reader. They are done through careful and thorough keyword research to shortlist and identify what their readers need and are interested in. By anticipating what your readers want to read and creating content around it, it increases the chance of your page being displayed when a search is entered. The creation of relevant content also helps to retain readers, promoting further engagement and potential conversion with your site.
Google's Search Quality Evaluator Guidelines give us important information on how Google determine what's quality content. These guidelines are used by human evaluator and were developed to complement the algorithm to rank pages with quality content more accurately.
According to Section 3 of the guideline a good quality page should have these factors:
1. The Purpose of the Page – this is the first step, the important point is there should be sufficient amount of main content (MC) to provide answers or solutions relating to the page purpose.
For example if the page purpose is about staycation in Singapore, the content should have good comprehensive information on hotels, transportation, place of interest etc.
2. E-A-T: Expertise, Authoritativeness, Trustworthiness
Having enough MC is not sufficient, Evaluators use E-A-T: Expertise, Authoritativeness, Trustworthiness to further determine the score.
On being the expert and authority Google lay out some specific in section 3.2. Depending on the page purpose the "expertise" is define differently.
For example, if the page is writing on financial analysis the expert would need to a certified analysis. However if the page is a forum page on financial matters Google can accept life experiences as subject expert,
Besides doing keyword research, webmasters can also improve their page's relevance by optimizing the SEO on-page factor. These factors are ranking signals found on the page itself. Some examples of on-page factors are title tag, meta description, and anchor text. Anchor text is the keyword you are looking to rank.
Reliability of Content – A page's reliability is measured based on the backlinks a page accumulates a backlink, or a link that is found on a site beside yours, is viewed as a referral or a vote of confidence for your site. Just like how a brick and mortar business rely on word-of-mouth recommendation to establish themselves as a trustworthy business, websites too rely on backlinks to establish themselves as an authority in the industry.
Acquiring backlinks is one the most important SEO ranking signal. Learn more why backlinks matters in SEO.
To achieve reliability, a webmaster need to look into the development of their site's link profile, that is the composition of links that are directed to your site. As your link profile grows, it indicates to Google that more webmasters in the industry are quoting you in their own article. This reinforces the trustworthiness of your content, boosting your site's reliability.
Establishing your site as a reliable site is not only about accumulating large number of links, it also includes the acquiring of quality links. The ability to find the balance between quantity and quality is the key for creating a healthy link profile. Having a healthy link profile improves Google's impression on your site, viewing it as more trustworthy and credible.
Response to Content – A user's response to your page can be measured using analytic metrics. A common tool used by local webmasters is Google Analytics. By analysing and interpreting these metrics, you will be able to determine which page is well-received and which page is struggling to keep visitors interested.
On top of being a search engine, Google is also a business. Therefore, it is Google's natural aim to ensure that their users are satisfied with their services. This is evident through their continuous efforts to improve the quality of pages displayed on their SERP. Google does this by analysing a site's analytic metrics. If a site is found to have low engagement behaviour, it signals to Google that the site has little value to offer and therefore should not be ranked highly on their search listing.
One of the metrics that webmasters should pay attention to is bounce rate. Bounce rate, which measures the percentage of visitors that leave your page without further interacting with your site, is usually a strong indicator of a page's quality and relevance. Typically, a page whose content is irrelevant to the keyword it is ranked for tend to experience high bounce rates.
Bounce rate as seen in Google Analytic.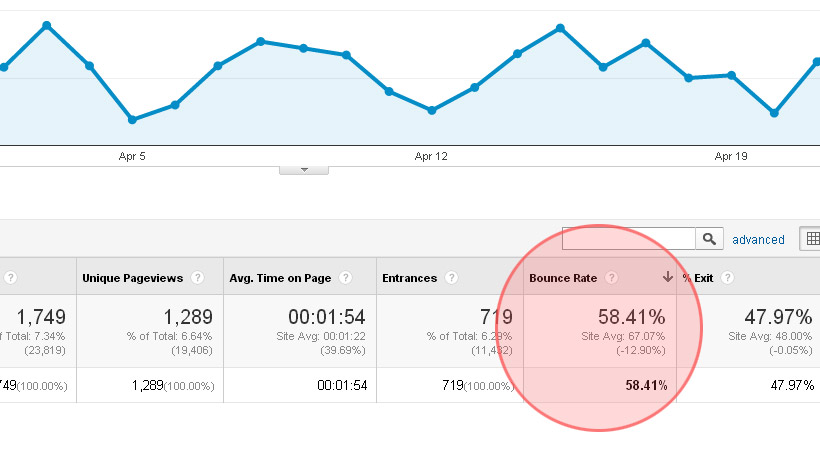 The Art & Science of Good SEO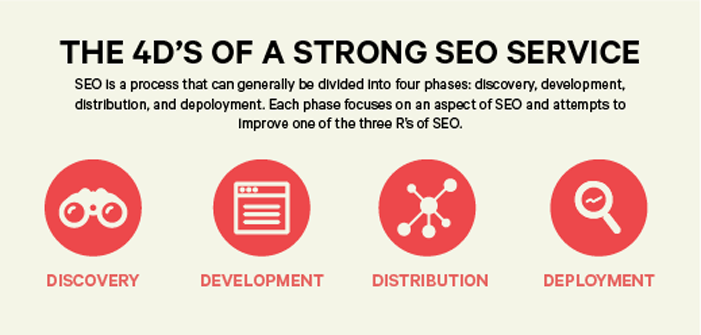 Our SEO is a process that can generally be divided into four phases: discovery, development, distribution, and deployment. Each phase focuses on an aspect of SEO and attempts to improve one of the three R's of SEO.
Discovery – in this phase of SEO, the main aim is to discover, identify and shortlist keywords that you want to rank for. The keywords chosen should be reflective of your audience's search behaviour and interest.
Development – in this phase, the main aim is to develop and create good and unique content using the keywords that you have shortlisted in the discovery phase. In content development, it is important to prioritize content quality over content quantity. After all, interested readers and fellow webmasters are interested in quality content and not the number of articles you have written. This phase is important as it aids in the establishment of a site's relevance.
Distribution – in this phase, the main aim is to distribute the content you have created and build quality links. Content distribution can be done through content marketing efforts, which includes social media marketing, email lists and outreaches. Content distribution strategies should be done to increase your content's reach by making it known to your audience and potential linkers. This phase is crucial as it affects the link profile of a website, which would affect its reliability.
Deployment – in this phase, the main aim is to collect data, analyse it and take steps to improve conversion. This step requires webmasters to utilise analytic tools to obtain information about their website. This phase primarily focuses on metrics that reflect site components that affect user experience, like page speed, and metrics that reveal user's site engagement. This phase allows webmasters to evaluate how their audience is interacting with their page, also known as their response.
Beacon is a boutique Inbound Marketing Agency focused on helping customers to increase their sales and marketing objects via their website. As a local Singapore SEO Company, our role is to provide sound SEO consultation and strategy implementation that is suitable for the local business environment. With SEO (Search Engine Optimization) being increase complex, we do not solely rely on in house resources, to ensure success for our client's search ranking projects. We have a pool of international experts that help us achieve effective and sustainable results for your business.
Interested To Start? Coffee On Us 100% No Obligation Discussion Call 62955 770